"You miss 100% of the shots you never take." - Wayne Gretsky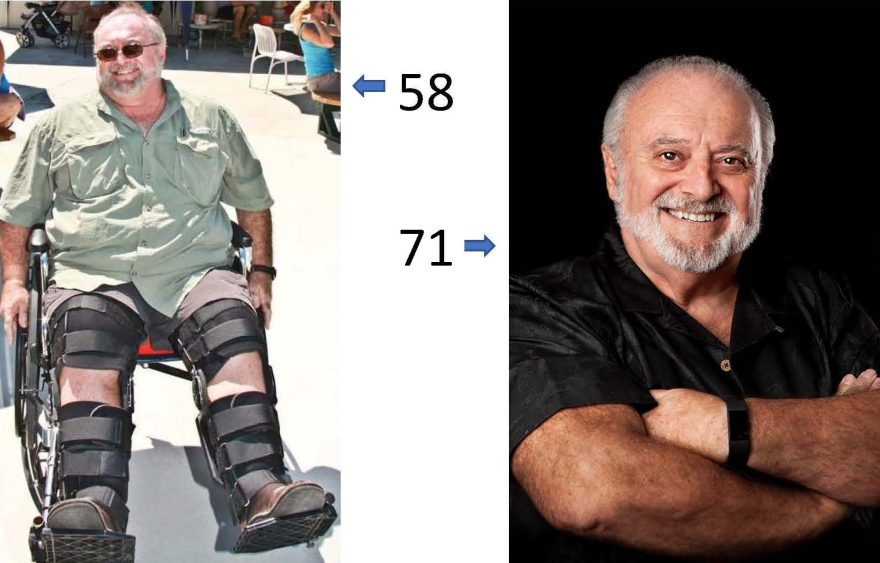 I grew up in the Midwest and developed two interests - medicine and music. I was accepted into the pre-med program at DePauw University, but switched my major and received a degree in music education.
I always had an entrepreneurial spirit. In addition to my performing career, I had several traditional businesses including a paint contracting company and a cultural marble manufacturing business. I also directed music at a Methodist church for over 20 years, founded and directed an opera company and taught music and voice at the local community college.
My physical challenges began around 1990, when during a difficult divorce, I developed chronic asthma and was hospitalized on numerous occasions. I was given prednisone, a corticosteroid, to help reduce inflammation in my lungs. I was unable to stop taking that medication for nearly 20 years or my symptoms would immediately return.
While the drug kept the asthma under control to a certain extent, the side effects were devastating: 140-pound weight gain, liver function issues, cataracts, osteoporosis and weakening of connective tissues.
The woman I was dating at the time (who later became my wife) recommended a network marketing company's nutritional products to me. I was unfamiliar with Shaklee, but she was so excited about her results, that I decided to give them a try. What a fortunate decision that was on so many levels!
With the help of Shaklee's natural nutritional supplements, focused exercise and other lifestyle changes, I was able to lose, so far, nearly half of the weight gain, balance my liver functions to normal levels, reverse my osteoporosis from bone scans of severe risk of fracture to normal risk, survive pulmonary emboli, and recover from surgery to reattach ruptured quadriceps tendons in both legs.
I am now a certified personal trainer and health coach specializing in corrective exercise and senior fitness, and use healthy eating and natural nutritional supplementation as part of this training.
After years of dabbling in network marketing as a hobby, I discovered the incredible power of our income option by helping others to secure their physical and financial health. I am building a legacy business that can be passed down to my daughter and granddaughter to help secure their financial future as well.
There is no other profession that I can think of that will allow any person of any ability to have such profound impacts on their own life and the lives of literally thousands of people. Better health and a secure financial future…what more does one need?
Better health is my business, and I would love to share it with you.
Let's Talk! Click to Schedule your Complimentary Discovery Session